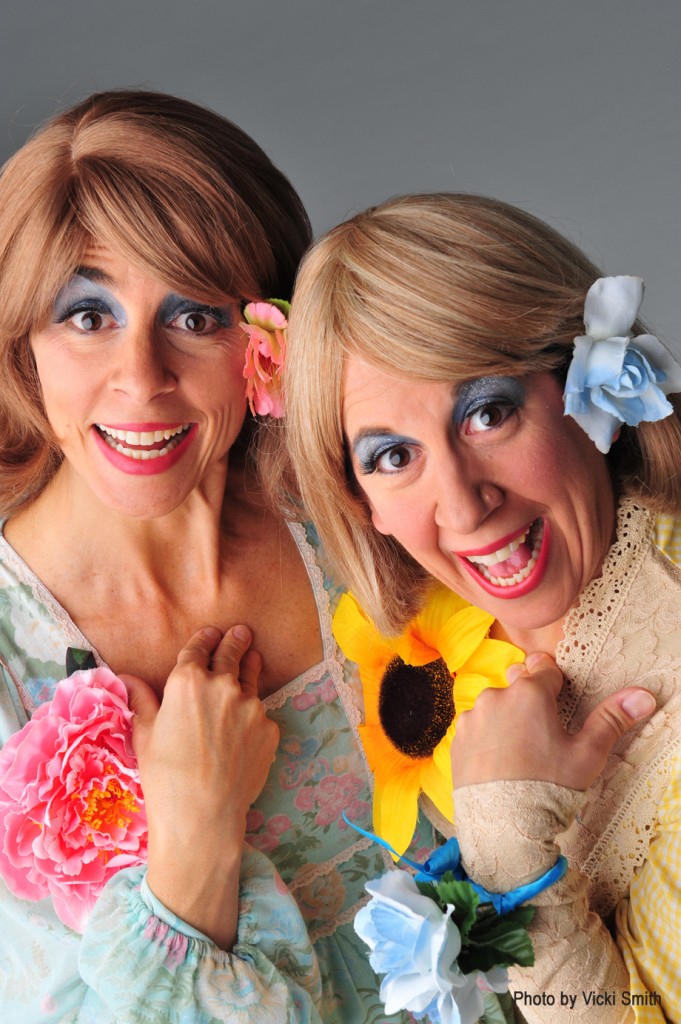 Lisa and Lori Brigantino are real life sisters who play Vickie and Nickie – the multi instrumental, singing sister duo straight from the hills of northern Minnesota!  Suburban housewives with ten kids between the two of them, Vickie and Nickie got their start singing in church and the local nursing home as youngsters in Hibbing, MN and moved on up to charity balls and the prison circuit as they got older.  One day, during a performance at the Minnesota State Correctional Facility, an inmate said to them "Hey, you gals should take that show on the road…" and they thought, "Yah, why not??!"  Well, the sisters never looked back and lo and behold,  when they can manage to get away from their identical twin husbands, Ronnie and Donnie, and their kids, Vickie and Nickie grace prisons, hospitals, and other illustrious stages all over the great US of A.
Vickie and Nickie love all kinds of music and have a fun, engaging repertoire running the gamut from pop, rock and country to soul, rap and funk to name a few.  The musical Minnesota moms entertain with humorous banter, wacky original tunes, hilarious pop song interpretations, improv and audience participation all while accompanying themselves on many different instruments including acoustic and electric guitars, keyboard, accordion, saxophone, clarinet, violin, ukuleles, percussion and more.
The Brigantino sisters have written and performed over 10 full length "Vickie & Nickie" shows to date including sold out performances of their holiday shows at The Duplex, The Cutting Room, Don't Tell Mama, Dixon Place and other notable NYC venues as well as several regional theatre performances at the Foothills Performing Arts Center in Oneonta, NY.  In addition, Vickie and Nickie have made special guest appearances in many variety and comedy shows in NYC including: Sundays at Seven Comedy Night at the Irish Arts Center, Kim David Smith's Vauxhall Kabarett at Vlada, Danny Leary's Variety Extravaganza at Comix, The Talent Show Brand Variety Show at The Gershwin Hotel, Listen To This at The 92nd St. Y/Tribeca, Becky Donohue and Danny Leary's The Cocktail Show at Don't Tell Mama, and The Rocha Dance Theatre's Glamour Bash at Galapagos in DUMBO.  Most recently, the Brigantino sisters produced their first season of webisodes called "Vickie & Nickie Flickies." The first 5 episodes can be seen on the Vickie & Nickie YouTube channel with more episodes on the way.